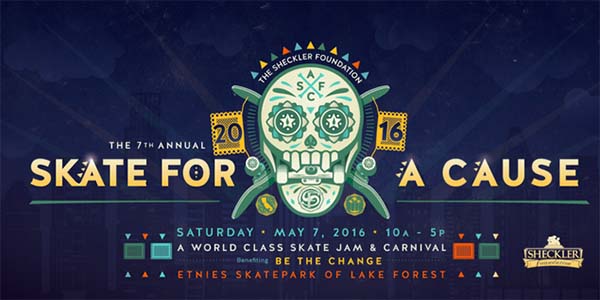 Chris Joslin, Kevin Romar, Danny Way, Felipe Gustavo, Torey Pudwill and many others will join Ryan Sheckler and the Sheckler Foundation at its 7th Annual Skate for a Cause taking place on Saturday, May 7, 2016 at the etnies Skatepark of Lake Forest. Free for all ages, the fun-filled day will include a carnival packed with games, prizes and food from this year's sponsors.
Here's last year's video:

As of today, pro and AM skateboarders for the 7th annual Skate for a Cause include:
Aaron Astorga
Dave Bachinsky
Matt Berger
Charlie Blair
Aiden Campbell
Pat Channita
Kurtis Colamonico
Chris Cole
Julian Davidson
Nick Dompierre
Dave Duncan
Sierra Fellers
Nick Garcia
Chris Gentry
Jim Gray
Felipe Gustavo
Dave Hackett
Eddie Hadvina
Tyler Hendley
Kelvin Hoefler
Jordan Hoffart
Christian Hosoi
Chris Joslin
Lizard King
Ryan Lay
Greg Lutzka
Andy McDonald
Alec Majerus
Trevor McClung
Alex Midler
Neal Mims
Pat Ngoho
Julian Padilla
Barney Page
Tony Panici
Torey Pudwill
David Reyes
Mike Rogers
Kevin Romar
Fabrizio Santos
Austen Seaholm
Christian Sereika
Ryan Sheckler
Shane Sheckler
Kane Sheckler
Sean Sheffey
Alex Sorgente
Sasha Steinhorst
Jamie Tancowny
Tony Tave
Daniel Vargas
Danny Way
Bill Weiss
Dylan Witkin
Trey Wood
To get a closer look and rub elbows with your favorite pro skateboarders, catch all the action you can get with limited VIP tickets. VIP Tickets are available for a $50 donation here: ShecklerFoundation.org. Donations will help the Sheckler Foundation grant future "Be the Change" initiatives; helping injured action sports athletes and children in need.
Join us for your favorite action packed event:
10:00 a.m. – Gates Open for the Carnival Village
10:00 a.m. – 12:00 p.m. – Legends Bowl Practice
11:30 a.m. – 11:50 a.m. – Adaptive Action Sports & WCMX Demo
12:00 p.m. – 1:15 p.m. – Transworld Legends Bowl Contest
1:30 p.m. – 2:30 p.m. – Lume Cube SkaterCross Contest
2:45 p.m. – 3:10 p.m. – Red Bull Tech Center Best Trick Contest
3:15 p.m. – 3:40 p.m. – Oakley Tranny Best Trick Contest
3:45 p.m. – 4:30 p.m. – Tillys Stairs, Hubbas, Rails Best Trick Contest
4:30 p.m. – Awards
4:45 p.m. – SF Raffle Winners Announced at SF booth
5:00 p.m. – Carnival Ends
Attendees can enjoy the festivities, food and fun from the confirmed sponsors below:
Chronic Taco
etnies
Ford
Fred Water
Grizzly
JAKK's Pacific
KurB Socks
Lume Cube
Melin
Oakley
Red Bull
Roth Capital Partners
Tech Deck
Tillys
Transworld SKATEboarding
Woodward West