HOMESICK Snowboarding Contest Hosted at Stratton Mountain, March 24-26, 2023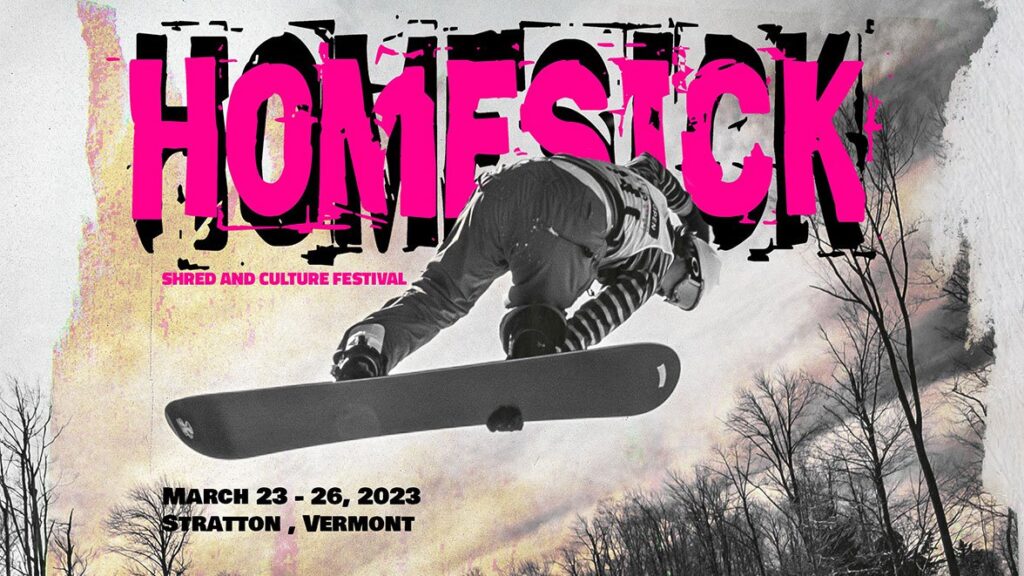 Snowboarding, Culture and Community. East Street Archives Presents HOMESICK at Stratton
HOMESICK Snowboarding Contest at Stratton Mountain Resort: Stratton Mountain and East Street Archives join to celebrate the history, tradition and progression of a sport that got its start right here at Stratton, Vermont, with an event that brings the community together through snowboarding and creativity.
HOMESICK makes its debut March 24-26 with three days of competition for all ages and abilities, art, photography, speaker series, vintage board room, and more.
This new event will be a homecoming for the Who's Who of Snowboarding, led by Olympic Gold Medalist Ross Powers, who still calls Stratton home, along with today's leading athletes like Zeb Powell and amateurs, young and OG, to compete where it all began.
Register now, before the roster fills. Olympic medals and US Open trophies welcome but not required.
HOMESICK Snowboarding Contest at Stratton – Featured Events
OG DOWNHILL – FRIDAY, MARCH 24
Before there was a halfpipe, or slopestyle or rails… snowboard events were all downhill. Here's your chance to strap in like it's 1983 – the year Stratton first welcomed snowboarding. Even if that's long before you were born.
POWERS RETRO PIPE – SATURDAY, MARCH 25
The 150-foot old-school halfpipe will be cut by Toby Malandrinos and the Stratton Parks Crew on East Byrnes Side, scene of landmark events and last built in 1997. Remember when 9-year-old Shaun White foreran the course or 17-year-old amateur Tricia Byrnes bested the pros to win her first trophy? All the legends were here. Terje Haakonsen, Jeff Brushie, Shaun Palmer, Shannon Dunn, Tina Basich, Barrett Christy … the list is long. And more than a few will be back.
ZEBULON RAIL JAM – SUNDAY, MARCH 26
Stratton Mountain School grad, X Games Medalist and snowboarding superstar Zeb Powell will unveil a custom rail designed and built for him by Lane Knaack, the renowned terrain park architect who grew up riding Stratton with the crew you'll see featured in the East Street Archives book. You won't want to miss this event, brought to you by Planet Zebulon.
Speaker Series, Witness Art Gallery & Vintage Board Room
More announcements on the way for these signature events, all the live music, sponsor swag, and the line-up of pros on their way to the epicenter of shred.
Make Your Plans Now

Secure your bib, book your lodging with packages like the Long Weekend. Stay tuned for more on signature events including the Ross Powers Poker Tournament to benefit the Level Fund Field. HOMESICK also supports the Stratton Foundation, Chill, and the Level Fund Field.
HOMESICK Snowboarding Contest Lodging Deal
If you're HOMESICK, there's no need to run out the door in just a day. Spend the weekend at the mountain with this HOMESICK Lodging Package. Find the best rates on the weekend stay. Maximize your time in the pipe, nights in the Village, and most importantly time with friends.
Rider List
HOMESICK Snowboarding Contest Stratton: CONFIRMED ATTENDEES
Zeb Powell
Greg Wilson
Michael Montanaro
Luke Omand
Jason Evans
Aimie Cappa
Dave Olcott
Jeff Brushie
Seth Neary
Jim Kelly
Todd Richards
Dave Spruill
Jame Macleod
Chris Copley
Chris Novak
Blair Rusin
Tricia Byrnes
Keir Dillon
Jon Kramer
Luke Wynen
Hobie Chittenden
Maggie Leon
Jeremy Baye
Chris Noyes
Ryan Lang
Andrew Mutty
Lane Knaack
Rahm Klampert
John Smallwood
Matt Gormley
Jib Hunt
Jason Ford